Intensive Dutch Course Online
We are online!
Our building is temporarily closed due to the Coronavirus but we are not closed! For the coming time, you are going to have your lessons in our Virtual classroom via the internet.

Start learning Dutch Today!
You do not have to wait until the start of your course! We have an online library of Dutch study materials for our students. You can access it via our Student Dashboard. You will gain access to the Student Dashboard directly after your payment so you can start learning Dutch with videos, audio, books, flashcards, vocabulary lists etc.
I'm very happy to have found Dutch Course Online. I had taken a previous course elsewhere and thought learning Dutch would be impossible as it all seemed too complicated, but our teacher did such a wonderful job at making the information understandable and digestible. I'm very happy to have signed up, and would happily take a course with them again! Can highly recommend!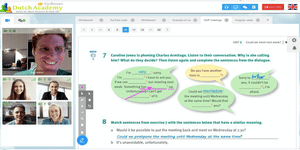 Virtual Classroom of Dutch Course Online

If all my language courses in the past would have this kind of an approach of teaching, I would be fluent in many languages by now! Very intensive course with a lot of additional study materials. Groups are small, both of the teachers are super nice, helpful and they really try to explain to you in that way that you understand. The most important, they encourage you to use the language in everyday situations.
Book your Dutch Course in Advance and get our Early Booking Discount! The price goes UP after Every Booking! Get one of our last discounted spots Today!
Dutch Course Online A1 level
Dutch Courses Online
Start
Price
Enroll >
Intensive Beginners Dutch Course Online A1 level (7 Jan'20 | iGroup 1)

I:

Tuesday, Friday 20:00-22:00, 11 weeks, 22x, Catharinaplein 21, Online

Fully booked!

€

440
Enroll now >
Intensive Beginners Dutch Course Online A1 level (14 Jan'20 iGroup 2)

I:

Tuesday, Friday 18:00-20:00, 11 weeks, 22x, Catharinaplein 21, Online

Fully booked!

€

440
Enroll now >
Intensive Beginners Dutch Course Online A1 level (3 Feb'20 iGroup 3)

I:

Monday, Wednesday 20:00-22:00, 11 weeks, 22x, Catharinaplein 21, Online

Fully booked!

€

440
Enroll now >
Intensive Beginners Dutch Course Online A1 level (26 Feb'20 iGroup 4)

I:

Monday, Wednesday 18:00-20:00, 11 weeks, 22x, Catharinaplein 21, Online

Fully booked!

€

440
Enroll now >
Intensive Beginners Dutch Course Online A1 level (27 March | iGr 6)

I:

Tuesday, Friday 20:00-22:00, 11 weeks, 22x, Virtual Classroom, Online

Fully booked!

€

440
Enroll now >
Intensive Beginners Dutch Course Online A1 level (21 March | iGr 5)

I:

Thursday 20:00-22:00, Saturday 11:15-13:15, 11 weeks, 22x, Virtual Classroom

Fully booked!

€

440
Enroll now >
Online Intensive Beginners Dutch Course A1 level (14 Apr iGroup 7)

I:

Tuesday, Friday 18:00-20:00, 11 weeks, 22x, Online Virtual Classroom

Fully booked!

€

440
Enroll now >
Online Intensive Beginners Dutch Course A1 level (25 May iGroup 8)

I:

Monday, Wednesday 18:00-20:00, 11 weeks, 22x, Online Virtual Classroom

25 May
Enroll now >
Dutch Course Online
Dutch Course Online A2 level
Dutch Courses Online
Start
Price
Enroll >
Intensive Semi-Interm Dutch Course Online A2 level: (23 Jan'20 | iGroup A)
I: Tuesday, Thursday, 20:00-22:00, 11 weeks, 44 hours, Catharinaplein 21, Online
23 Jan

€440

Fully booked!
Intensive Semi-Interm Dutch Course Online A2 level: (28 Feb'20 | iGroup C)
I: Friday 18:00-20:00, 22 weeks, 44 hours, Catharinaplein 21, Online
28 Feb

€440

Fully booked!
Intensive Beginners Dutch Course Online A2 level: (14 Apr | iGroup D)
I: Tuesday, Thursday, 20:00-22:00, 11 weeks, 44 hours, Virtual Classroom, Online
14 Apr

€440

Fully booked!
Online Intensive Dutch Course Online A2 level: (11 May | iGroup E)
I: Monday, Wednesday 20:00-22:00, 11 weeks, 44 hours, Online Virtual Classroom
11 May
€440 €399
Dutch Course Online B1 level
2020
| A1 level | Start | Day | Time | Location Online | Course planner |
| --- | --- | --- | --- | --- | --- |
| iGroup 1 (A1) | 7 Jan | Tuesday, Friday | 20:00-22:00 | Catharinaplein 21 | Download > |
| iGroup 2 (A1) | 14 Jan | Tuesday, Friday | 18:00-20:00 | Catharinaplein 21 | Download > |
| iGroup 3 (A1) | 3 Feb | Monday, Wednesday | 20:00-22:00 | Catharinaplein 21 | Download > |
| iGroup 4 (A1) | 26 Feb | Monday, Wednesday | 18:00-20:00 | Catharinaplein 21 | Download > |
| iGroup 5 (A1) | 21 March | Thursday, Saturday | 20:00-22:00 | 11:15-13:15 | Catharinaplein 21 | Download > |
| iGroup 6 (A1) | 27 March | Tuesday, Friday | 20:00-22:00 | Virtual Classroom | Download > |
| iGroup 7 (A1) | 14 Apr | Tuesday, Friday |  18:00-20:00 | Virtual Classroom | Download > |
| iGroup 8 (A1) | 25 May | Monday, Wednesday | 18:00-20:00 | Virtual Classroom | Download > |
| iGroup 9 (A1) | – | Tuesday, Friday | 20:00-22:00 | Catharinaplein 21 | Download > |
| iGroup 10 (A1) | – | Monday, Wednesday | 18:00-20:00 | Catharinaplein 21 | Download > |
| iGroup 11 (A1) | – | Tuesday, Friday | 18:00-20:00 | Catharinaplein 21 | Download > |
| iGroup 12 (A1) | – | Tuesday, Friday | 20:00-22:00 | Catharinaplein 21 | Download > |
| iGroup 13 (A1) | – | Thursday, Saturday | 20:00-22:00 | 11:15-13:15 | Catharinaplein 21 | Download > |
| iGroup 14 (A1) | – | Monday, Wednesday | 18:00-20:00 | Catharinaplein 21 | Download > |
| iGroup 15 (A1) | – | Tuesday, Friday | 18:00-20:00 | Catharinaplein 21 | Download > |
| iGroup 16 (A1) | – | Monday, Wednesday | 20:00-22:00 | Catharinaplein 21 | Download > |
| iGroup 17 (A1) | – | Monday, Wednesday | 18:00-20:00 | Catharinaplein 21 | Download > |
| iGroup 18 (A1) | – | Monday, Wednesday | 18:00-20:00 | Catharinaplein 21 | Download > |
2020